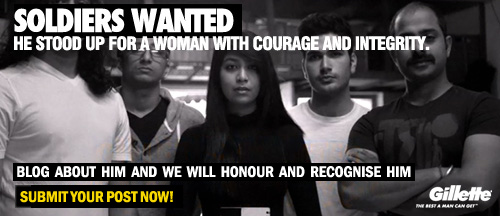 BlogAdda
When
BlogAdda
came out with this topic I wondered what to write, I mean I have never been in a position where I needed someone to stand up for me. If anything, I usually stand up for myself. So, I got to thinking, and after thinking for a long time I finally understood what this topic was about and what I had to write.
I don't need a situation to figure out who will stand up for me if I ever need help. I know for sure who will always be my side, no matter what. My brother! He will not only stand beside me all the time, but up to me whenever in need.
I remember the games we used to play when we were little. At that time Super Heroes Cartoons were at a large and we always used to act like we had super powers and we were some of the super heroes.
It used to be something like, I would be captured by an evil Villain who plans to threaten my family with it, but my brother who had super powers would try to save me. He would jump over the volcanoes (Sofa sets in the living room) and destroy the minions of the Villains and then the Villain himself (Pillows). After that, he used to take me back home making sure no one would dare to hurt me again.
It was always the same thing. Me being a Damsel in distress and my Brother my Super Hero.
And I wonder now, wouldn't he really do it if I needed his help? He obviously would. Because I am his little sweetheart and he won't let anyone hurt me. He would stand up for me no matter who he has to face. I can say that without any doubt in my mind.
At that time he pretended to be a superhero, but I guess he always remained a Super Hero to me, superpowers or not!
I am pretty sure that my Brother will not only stand up to me, but any girl for that matter if she needs a help, because he is such a gentleman.
Its true that a girl doesn't necessarily require someone to stand up for her. But neither will all guys stand up to a girl. Only few do. And those few deserved to be called as HEROES!
And my brother belongs to one of those Heroes <3. I love you dear brother, my superhero.
Me & My Superhero
I don't need any Batman, Superman or Spiderman as long as you are here. Because you are so much better than those super heroes.